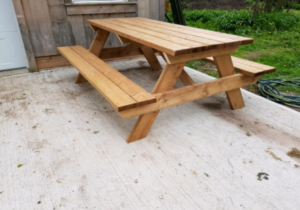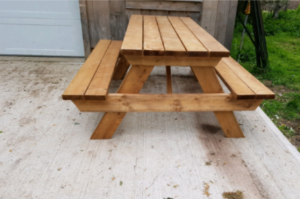 We take pride in our picnic tables—consider the following:
we hand select our material from local suppliers

We use 2 x 6 material—sheds water quicker!

End cuts sanded smooth & rounded over.

Hot dipped galvanized fasteners—built to last!

Delivery is available!
ALL WOOD CONSTRUCTION
Traditional wood legs & braces; bolted together with galvanized carriage bolts
Built to last; finished with care; priced to sell!
PREMIUM SPRUCE PT 
6 FT – $400.00        8 FT – $465.00
EASTERN WHITE CEDAR
6 FT – $365.00        8 FT – $415.00
(ALL PRICES INCLUDE HST)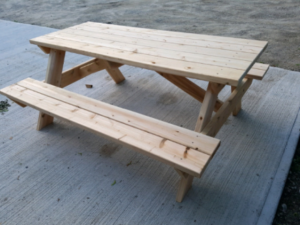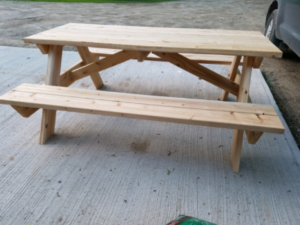 ALUMINUM LEGS & BRACES
1 5/8" aluminum tubing; fastened together with 1 1/2" galvanized lags.
Very strong but without the weight ; Easy access; built to last forever!
Built to last; easy access; easy to transport or slide across the ground.
PREMIUM SPRUCE PT
6 FT – $500.00         8 FT – $575.00 
EASTERN WHITE CEDAR
6 FT – $473.00         8 FT – $510.00 
(ALL PRICES INCLUDE HST)